I have always been a fan of Twinkle Khanna. Yes, even before she became a writer. No, I did not think she was a good actress, I just thought that she was very beautiful and had a very good sense of fashion. And I loved her hair. Oh, her hair! Okay, I can get vain at times. Then she went on to get married to Akshay Kumar, a man I immensely respect for being so humble. Then they became like the dream couple in my mind. Anyway, when she started writing columns, I thought it was just one of those things that star wives do. And then, I started reading her work. I was blown away! If there is something that this woman had, it was wit. And balls!
I waited for her columns every week. Her take on current affairs coupled with her home affairs was such a refreshing read. Nobody has made any news feel so entertaining before. Yeah, not even Arnab Goswami. There was something so genuine in her writing that you could easily relate to this. The things you could only think in your mind, she put it on paper. And how brilliantly! Respect for this woman instantly doubled. She made day to day mundane chores seems so interesting. The wit and sarcasm in her posts really stand out and the honesty in her writing seems so refreshing.
When I heard that she was writing a book, I immediately placed a pre-order request. When '
Mrs. Funnybones
' came home, I was reading something else. The husband picked the book and was done with it in a couple of hours! He loved it! I have never seen him laughing so much while reading a book and he's not even a frequent reader! When I started reading the book a day later, I couldn't put it down. She had done a A to Z in her book and each of it was so hilarious and yet so true. There was an ease in her writing that helps the reader read it the way it should be read. It is almost like she's sitting on your couch and you are having a conversation with her. It was that real and the concept was original. There is no way one can not like this book.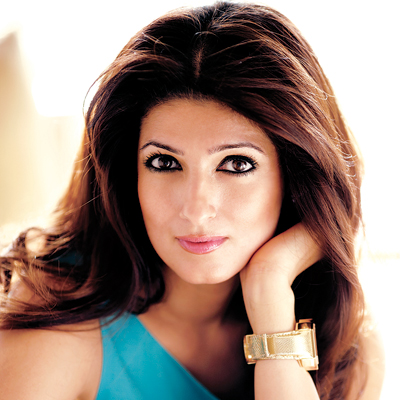 After this book I looked forward to her columns more and waited desperately for her second book. When I heard it was fiction, my heart sank a bit. I expected a one of a kind book from her but then she was doing fiction of all things. But then, it was her and I thought, well, there should be something different. When '
The Legend Of Lakshmi Prasad
' came in, I read the first story immediately and was immediately transported to the time when I used to read Amar Chitra Katha as a child. It felt like one of those feel good stories with a good deed in the end. The second story was the best of the lot with an unusual love story. The third one was easily forgettable and the only thing that came to my mind when I read this was '
Saath Khoon Maaf
'. The fourth was a story that I had followed earlier, which is now coming in the form of a movie called '
Padman
', produced by the very own author. I have reviewed the book
here
.
I finished this book in a couple of hours, but it was no where closer to her first book. I missed the wit and the sarcasm here. That is the USP of her writing after all. None of that was there in her second book. Also, the book needed better editing. It is not that she is a bad writer, it is just that maybe fiction is not her thing. I don't know what her next book is going to be about, but I hope it is about her tryst in the movie industry as an actress. That would be quite something, honestly. Until then, I would continue to relish her columns and enjoy her dry wit and humor.
What do you think of Mrs Funnybones?